The Chicharon. Don't we just love that crunchy perfection? Rather than just your typical go-to pulutan in every neighborhood inuman, here are 5 ways in which you can use this low-carb treat to add a twist to ordinary dishes!
Adobong Sitaw at Kangkong with Chicharon
This Filipino vegetable dish which is a variation of the adobo which Pinoys love to reinvent. This dish made of snake beans, water spinach, pork rinds, and chicharon; this meal would make your mouth water when served with rice.
Laing with Chicharon
Being both creamy and spicy, this Bicolano dish will make you break a sweat and craving for more. This dish made of shredded taro leaves, coconut milk, pork rinds, a lot of chili peppers, and topped with chicharon; this will make you wish you'd prepare a glass of water before sitting.
Pakbet Ilocano with Chicharon
Packed with the distinct Ilocano taste, this vegetable filled dish with bagoong balayan, will fill not just your stomach but your heart as well. This intensely seasoned dish will give you a delightful hint of sweetness and the chicharon on top, will give you that well deserved crunch.
Pancit Palabok
This fiesta favorite is a noodle dish topped with shrimp, smoked fish flakes, chicharon and boiled eggs. Being savory and sweet, this light dish is best known for being paired with a slice of bread and smile.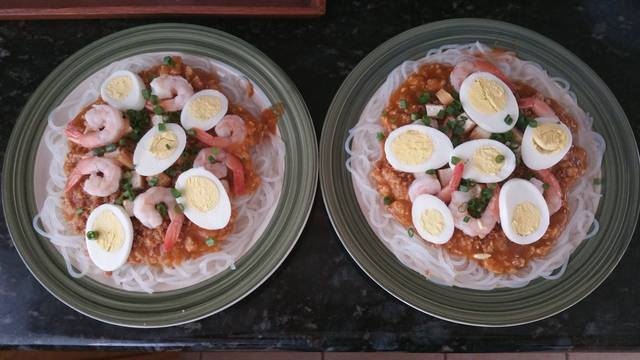 Chicharrón en Salsa Roja
Served with warm tortillas and refried beans, this easy yet flavourful mexical dish is your go to meal on last minute lunch dates.